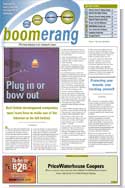 is the print and on-line news-magazine of

, an e-business solutions provider to the real property management industry.
It is geared towards providing rich industry-specific content to decision makers in an informative and easy to apply format.
Boomerang is packed with real-life case studies, profiles of industry icons, be they people or landmark properties, news capsules, solutions & helpful how-tos which are tailor-made for the professional property manager of today. Tracking the who's who of the industry, Boomerang enhances awareness about the increased efficiencies and decreased transactional costs afforded by the new Internet based economy, to supply-chain participants.
Boomerang is dynamic, responsive and interactive. Customized advertorials are placed in a relevant, specially created editorial environment. Its editorial content is shaped and mauled to meet the varying requirements of the readers and sponsors. It is interactive - more than just a regular print publication, as it offers live web-based connectivity through the Boomerang B2B portal which will integrate Landlords & Property Managers with the Supply Chain. This network will create an interactive bond with its members, compelling them to read Boomerang with enthusiasm.
Boomerang will deliever an audience of property management professionals throughout the industry. As the network evolves, members will enjoy a whole host of services.
A complimentary subscription to Boomerang magazine is available to Industry professional who qualify set criteria.